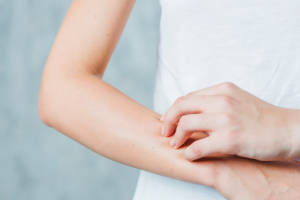 Itchiness can easily affect the quality of our lives such as in the quality of our sleep and our abiltiy to focus druing work. Menthol is a very well known cooling agent that is able to mask the sensation of itchiness. However, have you ever used a menthol product with a cooling sensation that is waaaayy too strong? Even so, we would still repeatedly use the strong menthol cream as we would rather feel the burning sensation of menthol than the intolerable itchiness on our skin. REMDII® Care Anti-Itch Series consist of REMDII® Care Cooling Snow Cream that is built with timed release technology in combination with encapsulated menthol. This means that REMDII® Care Cooling Snow Cream has a longer lasting cooling effect while not having the burning menthol sensation from other menthol products in the market.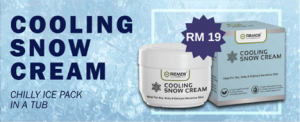 Description:
REMDII® Care Cooling Snow Cream is a cream infused with encapsulated menthol built with timed release technology to instantly soothe dry and itchy skin by providing long lasting yet comfortable cooling sensation on skin. It is rapidly and effectively relief itchiness without causing sensitization to the skin. The technology ensures long lasting refreshing sensation coupled with hydrating effect.
Ingredients:
Aqua, Stearic Acid, Copernicia Prunifera (Carnauba) Wax, Isononyl Isononanoate, Glycerin, Propylene Glycol, Menthol, Methyl Diisopropyl Propionamide, Ethyl Menthane Carboxamide, Menthyl Lactate, Hydroxypropylcellulose, Acrylates Copolymer, Butylene Glycol, Pentylene Glycol, Hydroxyphenyl Propamidobenzoic Acid, Phenoxyethanol, Ethylhexylglycerin, Potassium Hydroxide
Functions:
Instant itch relief – reduction of 50% itchiness upon first single application
Encapsulated menthol – cooling sensation
Long lasting refreshing effect – more than 10 minutes due to timed release technology
Mechanism:
The combination of encapsulated menthol and timed released technology is what makes REMDII® Care Cooling Snow Cream.

Encapsulated menthol
Low menthol odour – does not cause sensitization to skin
Effective itch relief
The difference between encapsulated menthol in REMDII® Care Cooling Snow Cream and normal menthol in the market: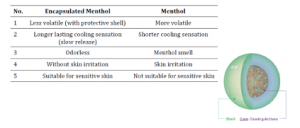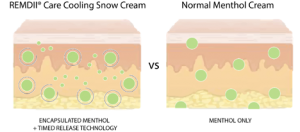 Timed-release technology
Slow release of menthol
Technology works by controlling the release rate of menthol, hence providing longer lasting refreshing menthol effect
Suitable for:    Everyone above 2 years of age
Directions for Use:
Use anytime as needed, when your skin is dry and itchy. Do not use if you are allergic to any of the ingredients.
For more information, head to REMDII® Care Anti-Itch Series blog post.
Read more:
Anti Itch Series- Which one should I choose?
How to handle endless itchiness?